Install the "Cloud Intelligence" APP
Step A. Download the lastest Cloud Intelligence app from the mobile app store or by scanning the following QR code.
The free app" Cloud Intelligence" is compatible with mobile devices the support IOS9.0 above, Android 4.4 above Step B. Enter the register interface, input the email address/phone number for getting the verification code to register an account. Please just log in if you already have a Cloud Intelligence account.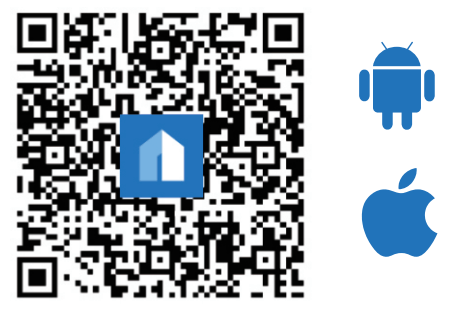 Step C: Add the switch to Cloud Intelligence APP
Note: This smart switch can only support the 2.4G network and cannot work with a 5.0G network. please check if your home network is 2.4G and make sure that your phone has been connected to your WI-FI home network
(1) Tap the "+" button on the top right corner to add a device, then tap "Add Manually"
to enter the next page.
FAQ
1. What can I do if it fails to add my device?
Make sure your device has been set to the network connection status according to the initial instruction; Make sure you have entered the correct WiFi SSID and password. Make sure the device is close to the router. Make sure your router has been set as 2.4GHz rather than connect your device to the network check in the router management settings.
2. Can I share the same device with my family?
Yes. First of all, your family member should download the" Cloud Intelligence " App and sign up for an account. Then, you can select the device you want to share in "Me"-"Share". Finally, tap "Add share user" and input your family member's account.
3. Is there any other language besides Chinese?
Yes. You can select other languages in "Me"-"Settings"-"Language".
4. Why is there a response lag in App remote control?
It's mainly because of network problems. Please check the network status of your WiFi and mobile cellular.
5. How can I distinguish two identical devices?
It is recommended that you modify the device name by tapping the area in the upper right corner of the device page after unbinding the device to differentiate them.
6. How to add a scene or automation?
In the Smart page of the app, after the add button in the top right corner is tapped, a pop-up dialog will prompt you to select a scene or Automation. In a scene, you can add a device that you wish to control and operate in one-tap mode. In automation, you can set one or multiple conditions to operate the device. Configure your desired scenes and automation to fully enjoy Cloud Intelligence.
7. Will the change in mobile phones affect the control and management of my device?
Our App provides you with cloud technical service of Alibaba Cloud, and all the device information is stored in the cloud, phone changing will not affect.